Listen to the Podcast
Hear IWBC Keynote Speaker Gerry McCaughey, CEO of California-based Entekra in an insightful Q&A podcast discussing a diversity of topics, including:
Why is Europe so far ahead of North America in offsite construction?
What is the difference between prefabricated components and fully integrated offsite construction?
How does the quality of fully integrated offsite construction compare to "stick" building?
Why is the current quality of lumber in North America not "robot-friendly"?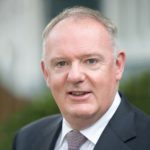 The above conversation was recorded with Gerry McCaughey, CEO and Chairman of Entekra. Gerry is an internationally respected business leader in offsite construction. Named Industry Entrepreneur of the Year by Ernst and Young, McCaughey was an influential force in Europe's continuing transition to homebuilding with a Fully Integrated Off-Site Solution™ (FIOSS™). McCaughey was co-founder and Chief Executive of Century Homes in Ireland, and later named Chief Executive of Kingspan Century following the $100 million acquisition of Century by building materials giant Kingspan Group Plc. By focusing on fully automating the construction process, McCaughey propelled Century from a small start-up operation of four employees into Europe's largest provider of FIOSS.