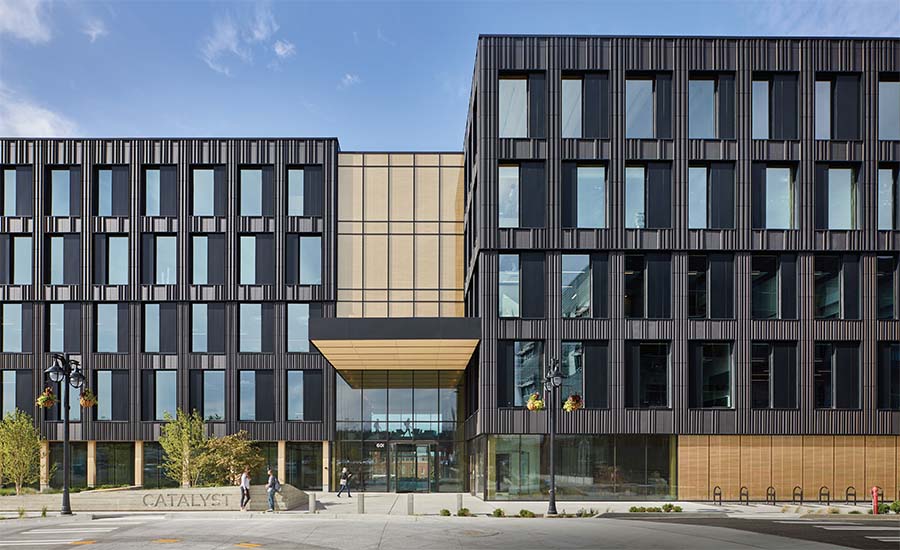 Photo © Benjamin Benschneider
Mass-timber guru Michael Green has completed his latest project "Catalyst" for the University of Eastern Washington in Spokane. Green explains that the five-storey, 1,500 square foot building, a central atrium with two wings, needed to be "aesthetically and programmatically neutral."
From the Katerra site: The building is intended to demonstrate the possibilities of the integration of economic vitality, regional sustainability and energy efficiency by leveraging the legacy industries of the region (such as timber) and the innovation happening in the construction and education sectors. The use of CLT means the building will have a smaller carbon footprint than that of comparable buildings built with steel and concrete.
The building is situated in Spokane's South Landing "eco-district" and is one of North America's largest structures to ambitiously reach for both zero carbon and zero energy certifications. At 159,000 square feet, the building will produce enough renewable energy to meet, and at times exceed, consumption. The team will work to reduce GHG emissions during the lifecycle of the building and invest in carbon offsets to ensure a carbon neutral site. By building with timber, Catalyst is able to sequester the equivalent GHG to removing 1,100 cars from the road for a year.
Catalyst was designed and built for the most part by Katerra. Many of these products were locally sourced from Katerra's own Spokane Valley factory which produces CLT components. These include a frame of glulam beams with CLT panels on walls and floors. "Making them out of concrete would slow down construction and negate the climate benefits of using wood," explains Green.
Due to its proximity to a rail line, Catalyst employs several sound-dampening techniques. The interior cladding includes CLT and the exterior cladding is terra cotta which has a lower environmental impact than traditional siding and creates an airtight building envelope that exceeds Passive House standards by a factor of 2.
The heating and cooling plant (housed in a separate building) was designed by McKinstry and encompasses heat recovery systems. The building also houses the thermal and battery storage units for the on and off-site renewable energy systems. The onsite renewable energy systems include a 213 kW photovoltaic array situated on the roof and three additional arrays on other rooftops in Spokane. The four arrays combine produce a total of 1,100,000 kWh of energy annually.
The Catalyst building is fitted with sensors that track performance and occupancy. Data must be collected for 12 months before Zero Energy and Zero Carbon certifications are awarded to ensure the building is performing as expected.
Brad Liljequist, McKinstry's zero energy senior program manager, hopes that Catalyst will not be a building working to reduce environmental impact on its own. The eco-district buildings aim to work together as a system to share renewable resources and combine efforts to reduce GHG emissions.