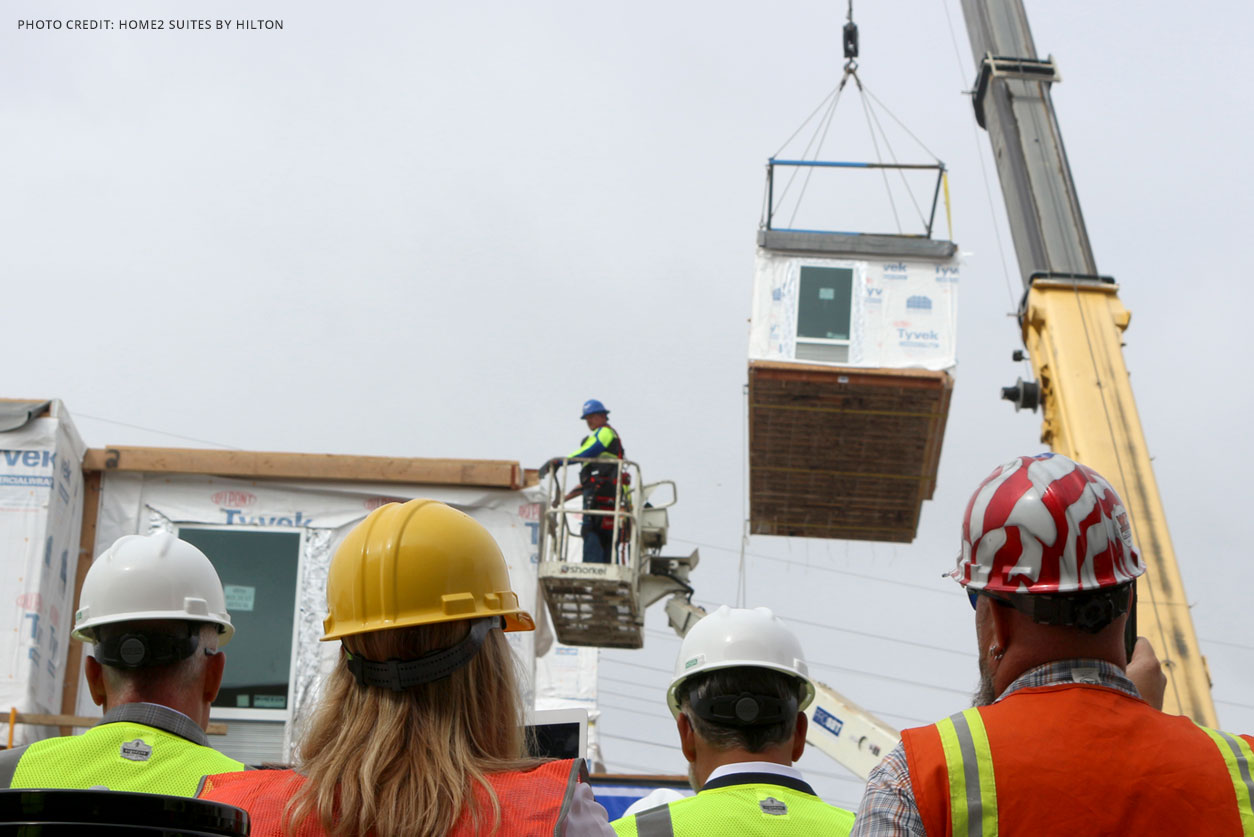 Baywood Hotels has ventured into the cutting-edge construction world with its first modular hotel. This building technique takes construction offsite and into a factory where rooms are built in their entirety and only have to be assembled online. The Maryland-based Baywood hotel introduced the Hilton Garden Inn San Jose in Fremont, California by holding a 'stacking' event that showcased the five-story hotel which will also feature a restaurant and bar and 12 EV charging stations for electric cars.
"The San Jose/San Francisco region faces numerous challenges with finding skilled labor, primarily due to the boom in residential demand," Baywood Hotels President Al Patel told Asian Hospitality. "The area was also recently faced with natural disasters, such as the flood and fires that have wiped out thousands of homes. Modular construction has many pros over traditional methods."
With growing labor shortages in the construction industry, utilizing modular building techniques allows developers to better control design and quality while reducing labor costs. With consistent modules, the inspection process is easier and reduced onsite construction time means less noise and disruption to the neighborhood. Factory production creates less waste and allows for the effective recycling of materials.
"Baywood Hotels has been a longtime Hilton partner and supporter of the Hilton Garden Inn brand," John Greenleaf, global head for Hilton Garden Inn. "Given this potentially challenging construction market and building site, they were eager to work with us to test this game-changing technique which offers a way to construct the hotel in a timely, cost-effective manner that reduces the overall disturbance in the building location."
Modular construction means projects are not subject to adverse weather conditions and can be consistently completed on time. With faster construction times, modular building is becoming an increasingly popular option for hotel construction. This June, Southern Hospitality opened the Home2 Suites by Hilton San Francisco Airport North, the first modular-built hotel in the San Francisco Bay Area.
BJ Patel from Flowood, Mississippi-based Southern Hospitality Services claims there are many reasons their chain also decided to use the modular building technique; "First, the quality of the product because it is built in an enclosed environment; acoustic-wise, there is nothing better. Second, the construction timeline is shorter. You know the saying 'Time is money?' In construction it is real money. And, third, in the Bay Area we have had a hard time finding enough skilled construction workers to complete a job. It is next to impossible."
The Marriot chain is also utilizing the technique and will construct the tallest hotel using modular building. The AC Hotel New York NoMad will open in 2020 with a 360-foot-tall tower that will be stacked in just over 90 days and feature a modular rooftop bar.