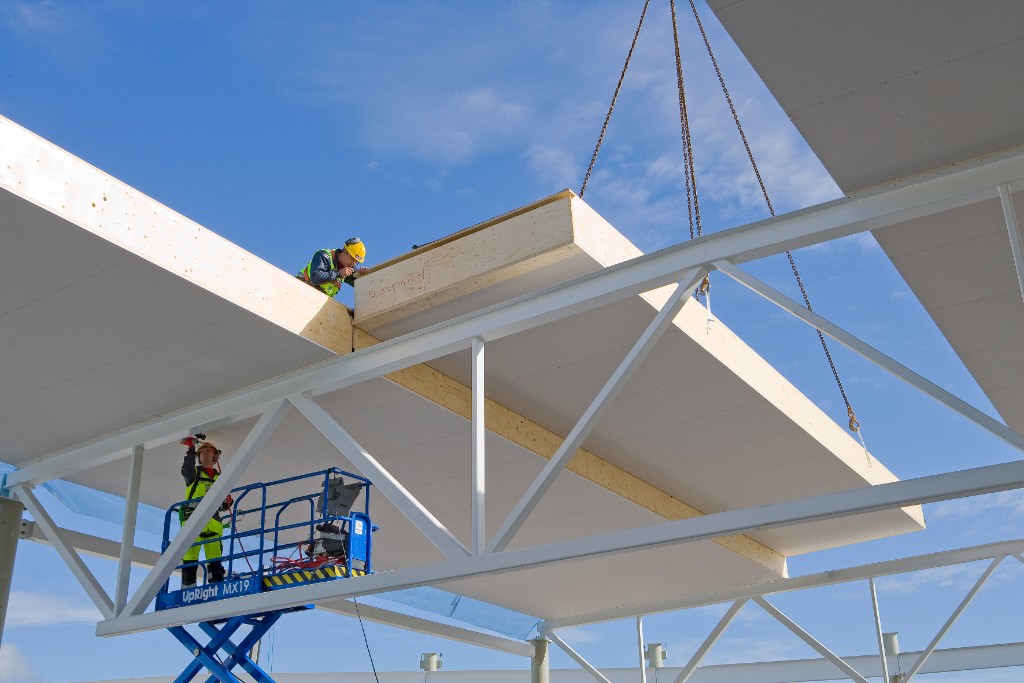 The construction industry is undergoing a major transition, with construction moving from building sites to off-site manufacturing. Fully-integrated off-site manufacturing vastly increases construction accuracy, quality and efficiency. Manufacturing can take place at the same time as foundations are being laid, reducing time to building occupancy by as much as 50%. Precision manufacturing leads to higher quality, fewer claims and call-backs and far less waste.
Metsä Wood's Diverse Kerto® LVL Product Line
One of the leading players in this new off-site revolution is Metsä Wood, with their signature laminated veneer lumber product called Kerto® LVL. Metsä produces four variations of LVL:
Kerto® S-beam: Traditional LVL with all veneer in parallel and grain running longitudinally. Typical applications include beams, headers, floor joists, rafters, columns and wall framing
Kerto® Q-panel: Cross laminated LVL with every fifth veneer oriented orthogonally, with wood grain turned 90 degrees, to ensure high dimensional stability. Typically used as panels for floors, roof and walls up to 5 ¼" thick and 8' 2" wide. Applications are floor, roof and wall panels.
Kerto® L-panel: Same layup as Q but with lighter veneer. L-panel is an ideal choice for lower load-bearing panels that require high rigidity and dimensional stability.
Kerto® Qp: Similar to Q but with only 2 veneers turned orthogonally. Ideal for deep depth beams where both high edgewise bending and dimensional stability are required.
Kerto-Ripa®
Among the elements Metsä's partners are producing is Kerto-Ripa®. This is an enhanced design system for roof and floor elements, developed by Metsä Wood. It combines Kerto® LVL S-beam and Kerto® LVL Q-panel loadbearing components as a glued element that enables long spans up to 20 meters, making it possible for structural designers to remove columns and increase design flexibility.
Kerto-Ripa designed elements can be of both open and closed structure and insulated to match every unique building's exact requirements.
Kerto Ripa LVL panels for floors and roofs are more efficient than CLT. They have the same structural capacity but use half the amount of wood as CLT. They also provide room for mechanicals and insulation and are top chord/panel bearing.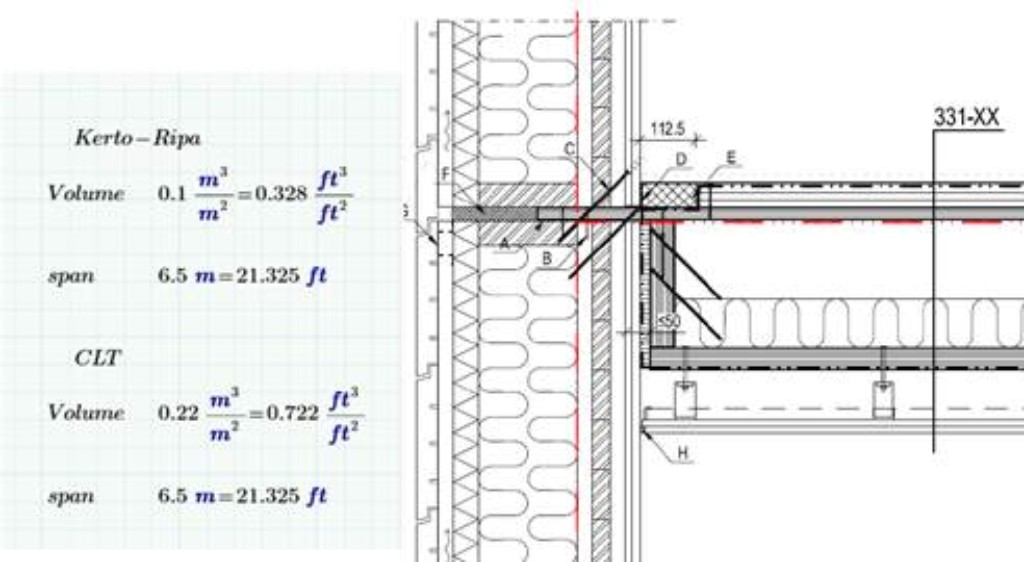 Picture courtesy of  Metsä Wood
The Kerto® Ecosystem – An Innovative Business Model
In Europe, Metsä Wood has developed an innovative business model in which the company works with permanent partners who build floor, roof and wall elements, as well as kitchen and bathroom pods and full apartment modules.
"We are building a wood-based ecosystem in Europe – a network of specialists, each of whom focuses on their core business," says Juha Kasslin, vice president, Central Europe and sales development at Metsä Wood.

"Metsä Wood's core business will be industrial-scale LVL manufacturing, and our partner network will fabricate floor wall and roof elements using our LVL products. This arrangement will benefit the growth of the entire ecosystem."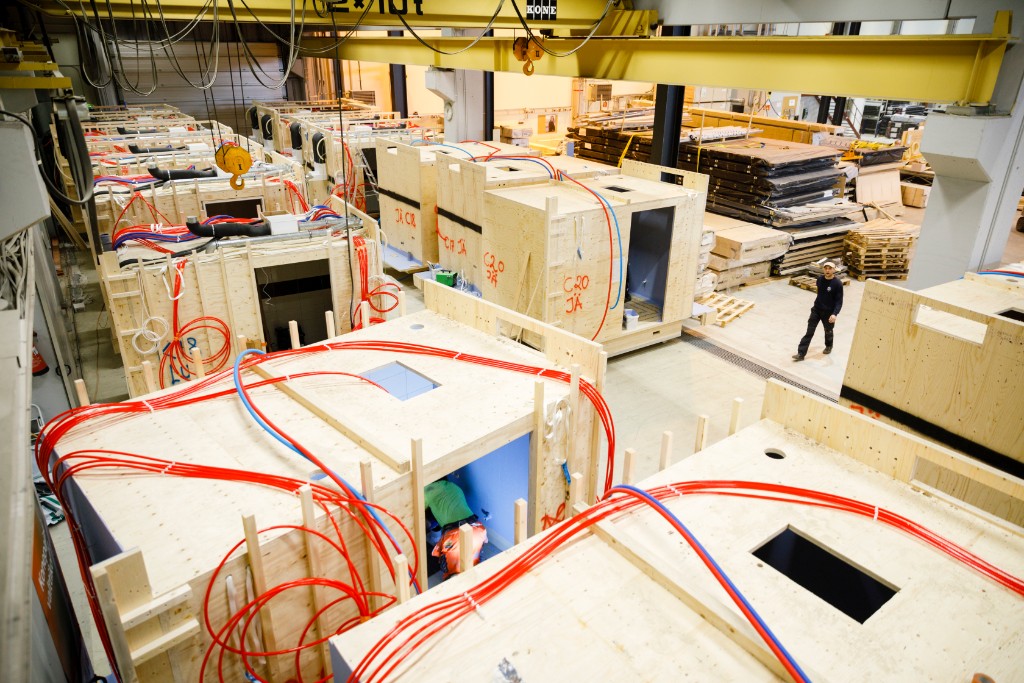 Picture courtesy of  Metsä Wood
Sisco
Metsä's partnership with the Finnish company Sisco is a good example. Metsä Wood supplies fixed-length Kerto LVL products from which Sisco manufactures roof, floor and wall elements, as well as complete modules.
Sisco's outstanding success and rapid growth in sales of prefabricated bathroom and kitchen pods and apartment modules indicate that industrialized wood-frame apartment buildings using LVL are the shape of things to come.
Lapwall
Another partnership example is Lapwall, a specialist in element-based wood building. Lapwall also believes in the logic and assembly chain approach that have been adopted from the automobile industry. In industrial wood construction, the work steps are clustered together and prepared in advance. All that remains to be done on the building site is to connect the parts.
"If each building is a prototype, then things become impossible," says Jarmo Pekkarinen, CEO at Lapwall. "Our product development is based on the concept of having a range of models, with each building being assembled from prefabricated parts. This allows optimal cost, quality and speed. Thanks to this approach, we can promise developers and investors that a building project can be completed in as little as three weeks."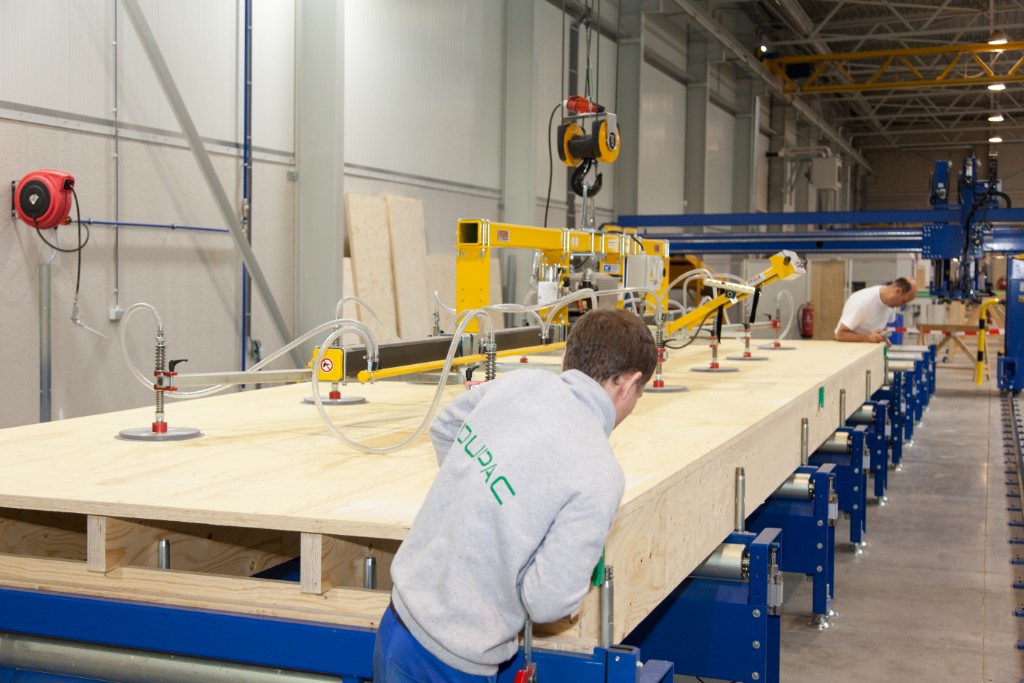 Picture courtesy of  Metsä Wood
Dupac
Partnership with Metsä Wood has also benefitted Dupac, a company that specializes in prefabricated wood elements. Quality checks, both internal and external, ensure the Kerto LVL Ripa elements that Dupac manufactures have the features defined in the European Technical Assessment (ETA).
"For us, the new production unit for certified Kerto LVL Ripa element production is a milestone. This will therefore allow us to establish ourselves as Metsä Wood's partner in the Belgian market, as well as in technically challenging multi-storey housing and large-scale commercial construction or even property construction projects," says Dupac's managing director Marc Cuyvers.
Metsä Wood is Now Seeking North American Partners
Buoyed by the success of their partnerships in Europe, Metsä Wood is now seeking partnerships for industrial wood element construction in North America. Metsä Wood is a Gold Sponsor at FEA's IWBC Conference to be held in Boston, October 24 – 26. Metsä will use the conference to build awareness of its many products and solutions for industrialized construction in addition to attracting companies that may be interested in joining the Kerto Ecosystem.
Open Source Wood Project
Metsä Wood's Open Source Wood project invites architects, designers and engineers to innovate and share information relating to off-site construction. To promote the sharing of design ideas, Metsä Wood is offering EUR 30,000 in prize money for element-based designs that make innovative use of Kerto LVL. Read more and join the movement to more efficient and effective construction.