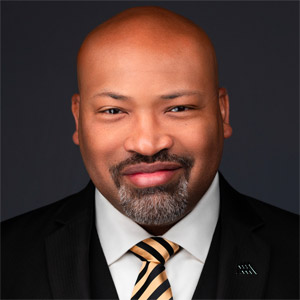 AC Powell
---
President & CEO, National Institute of Building Sciences (NIBS)

Amir Clayton "AC" Powell, JD, CPS, is the President & CEO of the National Institute of Building Sciences. Powell joined NIBS in September 2022, after serving nearly five years as the Executive Director & CEO of the Association for Facilities Engineering. Prior to AFE, Powell was an independent management consultant, providing operations and facilities management services to non-profit organizations and property management firms.
Powell began his professional journey as a satellite TV salesman before transitioning into insurance, serving as an adjuster with Allstate Insurance Company in 1996. Settling property and casualty claims helped Powell become a skilled negotiator, a skill that paid dividends when he transitioned from insurance into public policy for one of Central Ohio's oldest civil rights organizations.
Powell strives to connect with people across cultural, generational, political and socio-economic barriers. After moving to Washington, Powell joined the DC Chamber of Commerce, serving as Director of the Business Resource Center. Powell also has deep roots in education, teaching courses for Westwood College, University of Valley Forge, Virginia International University, and Prince William (Virginia) County Schools. He most recently served as an adjunct professor with the School of Business Administration at Stratford University, teaching business law, business ethics, and competition and innovation to adult-learners.
He holds a bachelor's degree from Denison University in Granville, Ohio, and a Juris Doctor degree from Capital University in Columbus, Ohio.