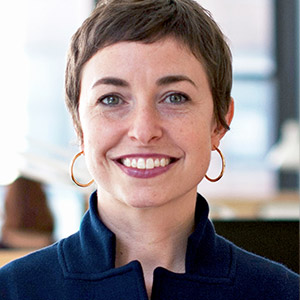 Ashley Rao
---
Senior Associate
Leers Weinzapfel Associates

Ashley is a Senior Associate with Leers Weinzapfel Associates Architects, recipient of the national AIA Firm Award and among Architect Magazine's Top 50 firms in the US since 2015. Known for their work in complex academic and infrastructure projects, Leers Weinzapfel is a national leader in the field of mass timber design. Ashley was the project manager for Adohi Hall at the University of Arkansas, a 708-bed, 202,000 sf new dormitory complex completed in 2019 in Fayetteville, AR – currently the largest mass timber building in the US.
Ashley is an active member of the Boston Sustainable Design Leaders peer network, and leads the LWA "Green Monsters" sustainability working group. She speaks nationally at seminars and webinars about mass timber design, highlighting the design opportunities, technical challenges, and carbon sequestration potential of building big with wood.
A graduate of Harvard University with a master's degree in architecture from Yale University, Ashley received the James Gamble Rogers Memorial Fellowship for exceptional skill in design, and the Sonia Albert Schimberg Prize for outstanding academic performance.
Breakout Presentation Topic:
Addressing Challenges of Mass Timber Design and Construction
Mass timber construction has the potential to transform the way we build – dramatically reducing the carbon footprint of our buildings, shortening construction schedules through offsite prefabrication, and creating biophilic environments with exposed natural wood. But challenges abound, particularly in controlling the cost, addressing code concerns, and coordinating the design, fabrication and construction to realize the full potential of these novel systems. Adohi Hall at the University of Arkansas is the largest mass timber project in the US and represents a pioneering use of mass timber for student residence hall applications. Join the team (architect, code consultant, and mass timber/CLT fabricator) for a discussion of lessons learned throughout the process of design and construction.
← Return to the Agenda