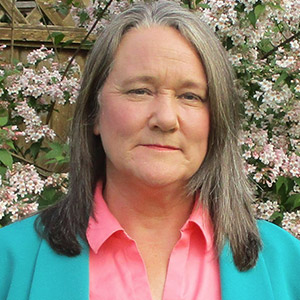 Elaine Oneil
---
Director of Science and Sustainability
CORRIM (Consortium for Research on Renewable Industrial Materials)

Dr. Elaine Oneil serves as the Director of Science and Sustainability for CORRIM (Consortium for Research on Renewable Industrial Materials), a university research consortium that has spent the last 24 years conducting life cycle inventory and life cycle assessments on wood products from cradle to grave. Dr. Oneil has spent more than 30 years in the forest sector, starting in forest operations and management, transitioning to research on climate change, timber supply modeling and analysis, forest carbon dynamics, life cycle assessment of forest operations and wood products, and most recently into the public policy arena as it pertains to forest sustainability and land management. She has Bachelor of Science in Forestry from the University of British Columbia and MSc and PhD degrees from the University of Washington. She likes to use her interesting work history to link science to practice when quantifying the benefit of the forest sector as a carbon negative technology.
Breakout Presentation Topic:
Mass Timber Construction as a Circular Economy Solution – Challenges and Opportunities
In this panel presentation we explore the forest to building construction to use and reuse life cycle of mass timber construction products like cross laminated timber and glulam through a sustainability and efficiency lens. We start with a brief summary of the life cycle from forest to wood product, then compare mass timber and conventional construction whole building life cycle assessments, identify challenges in implementing mass timber construction projects, and highlight opportunities for extending the life cycle by designing for disassembly (DfD) and reuse. Both material and process implications of using this novel construction material are discussed. Dr. Oneil's focus will be on the life cycle from forest to wood product with emphasis on characterizing elements of sustainable procurement decisions.
← Return to the Agenda