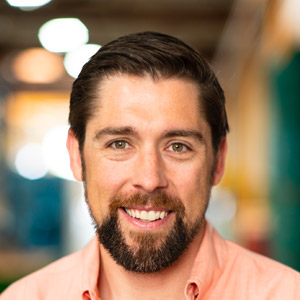 Garrett Moore
---
Co-Founder & CEO, AGORUS

After playing football and achieving a degree in Mechanical Engineering at Stanford in 2007, and despite an early desire to jump right into a Silicon Valley start-up after graduation, Garrett's passion to serve led him to San Diego to become an officer in the Navy SEALs. His 12-year active-duty career had him leading teams in a variety of stressful, forward deployed, wartime operations.
While serving in the military, Garrett received an Olmsted Scholarship. Similar to a Rhodes Scholarship, this program enables a small select group of highly qualified, active-duty junior officers in the United States military to pursue language studies and overseas graduate-level education. Garrett chose to use this opportunity to earn a master's degree in Cybersecurity at Tel Aviv University, requiring him to learn Hebrew from scratch.
Garrett and his co-founder, Kyle Tompane, founded AGORUS after recognizing a need for modern technology to improve home construction and build any residential structure in days, instead of months.
Why is Industrialized Construction So. Dang. Hard?
With generational labor shortages, a national housing crisis and radical advancements in software and robotics this should be a slam dunk. And yet America's "pivot" to industrialized construction has been several years away for 70 years. Why? Because it's really, really hard. It's hard to stay focused. It's hard to integrate existing technology. It's hard to raise capital. It's hard to be sustainably profitable. The list goes on. At AGORUS, we're obsessed with making offsite construction easy so that together we can finally change how the world builds.