←
Return to the Agenda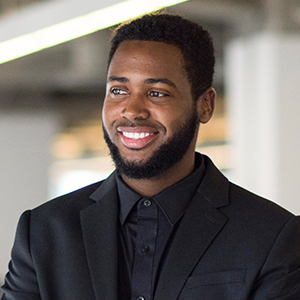 Hakim Hasan
---
Researcher
Perkins+Will Research

Hakim Hasan a researcher at Perkins and Will who specializes in robotic fabrication and computational design. In 2015 he received his bachelor of architecture from Kennesaw State University. Hakim joined the Design Process and Building Technology Lab at Perkins+Will where he actively participated in multiple projects in the development of a practice based research.
In 2017 he completed his postgraduate studies at ETH Zurich obtaining a Master's with a focus in Digital Fabrication and Robotics. Hakim worked at Gramazio Kohler Research where he developed an innovative process of aggregating soft particles which led to him teaching at the Norman Foster Foundation Robotics Atelier.
Since January 2018 Hakim rejoined Perkins+Will in the Building Technology lab as a lead researcher in architectural robotics.
Breakout Presentation Topic:
Robotic Fabrication of Nail Laminated Timber
Robotics, mass timber, and parametric design are all key technologies that are underutilized in construction. To fully take advantage of these new technologies requires a rethinking of the entire process from design to construction. The Greenbuild Pavilion represents a new construction workflow, in which a digital parametric model is communicated directly to a robot fabricator. The robot, equipped with various tools, can manipulate dimensional lumber into complex geometries with industrial precision. This workflow has the potential to drastically improve the sustainability, quality, cost, and time of construction.