←
Return to the Agenda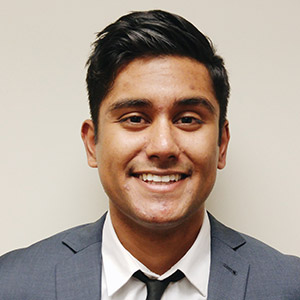 Khaleed Khondoker
---
Engineering Manager
SMT Research

Khaleed specializes in managing instrumentation and design projects that span multiple disciplines of engineering. With a design focused background in electrical and mechanical engineering, he has led projects from initial product design conception to mass field implementation. Khaleed has designed and deployed monitoring solutions for structural, hygrothermal, and energy related projects.
Khaleed's current research emphasizes long-term monitoring for mass timber construction and the passive house design standard.
Khaleed has extensive experience in designing new sensor technology for quality and efficiency testing in the building science and construction industry. He acts as part of SMT's engineering team on instrumentation projects, interfacing with interested parties, designing, and implementing sensor networks. He performs experiments, assesses the quality of sensor outputs, and analyzes raw data for clients. He investigates and performs literature reviews on various research topics, such as Canada's engineered wood industry, in-situ thermal efficiency monitoring, and concrete performance, giving project team members and managers better insight on the status of sensor technologies and ideas for future research.
He also conducts independent research used for potential patents, research papers, and conference presentations, which generate valuable development for the company and industry as a whole.
Breakout Presentation Topic:
Standardization & Mass Customization: Innovative Structure Monitoring Technologies to Foster Efficiency in Mass Timber Building Construction and Validate Design
Wood structures such as the Wood Innovation and Design Center (WIDC) in Prince George and UBC Brock Commons Tallwood House (18 storey, 53-meter-tall mass timber built) in Vancouver are examples of new and innovative wood structures that encompass new construction techniques, unique materials and innovative practices. The ability to receive empirical data of critical components as well as access to the real-time state of the building during construction gives Architects, Engineers and Contractors critical information to make informative decisions to either validate, change or improve the construction plan. Data recorded during transportation, construction and the life of the building helps validate the design decisions and proves the viability and feasibility of the design.
The speaker will use case studies of UBC Tallwood House and WIDC to illustrate mass timber monitoring technologies fit in to help improve efficiency in manufacturing and construction in mass timber building, at the same time validating building designs and methods to sustain design freedom. By installing monitoring kits, which include sensors, data acquisition and analytics tools, in prefabricated wood panels on the factory floor, structural health parameters such as interior moisture content, temperature, and relative humidity can be monitored throughout all stages in bringing up a wood building – during manufacturing, construction, and post construction. Vertical movement (floor to floor settling) and product shrinkage within each wood panel can also be monitored, and the project team will be notified at real-time if any structural risk is detected. As every wood panel being monitored and connected, the entire building is fully covered for preventative quality assurance, also providing valuable insights for researchers, designers, building science specialists, building managers and owners.