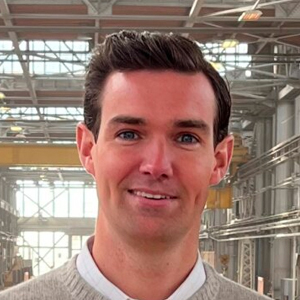 Matt Smith
---
VP of Sales and Business Development
Factory_OS

Washington, D.C. born and raised, Matt relocated to California in 2020 to join the Factory_OS team. At Factory_OS, he currently serves as Vice President of Sales and Business Development. During his time at Factory_OS the team has grown immensely, having now completed 24 projects, 2,500+ units of housing for many of California's largest private and non-profit developers. Matt takes pride in his responsiveness and relentlessly works for his clients.
Prior to his time at Factory_OS, Matt had an almost decade long career in Commercial Real Estate representing some of the world's largest owners and occupiers in the Mid-Atlantic Region. While living in Washington, D.C., Matt served on the Young Executive boards of PLAYWORKS USA and The Washington Jesuit Academy.
Matt graduated from The College of the Holy Cross in Worcester, Massachusetts and currently lives in San Francisco with his wife, Avery.
The Common Pain Points with Offsite Design and Construction (and How to Navigate Them)
What are the inherent challenges—and potential solutions—for off-site design and construction within the wood industry? This presentation will delve into the common pain points architects, engineers, and construction professionals encounter when opting for off-site methodologies on mass timber and light-frame wood projects. Attendees will gain valuable insights into mitigating these challenges and fostering successful project outcomes through effective strategies and best practices. Join us to enhance your understanding of off-site construction's complexities and refine your ability to navigate its intricacies within the realm of wood structures.