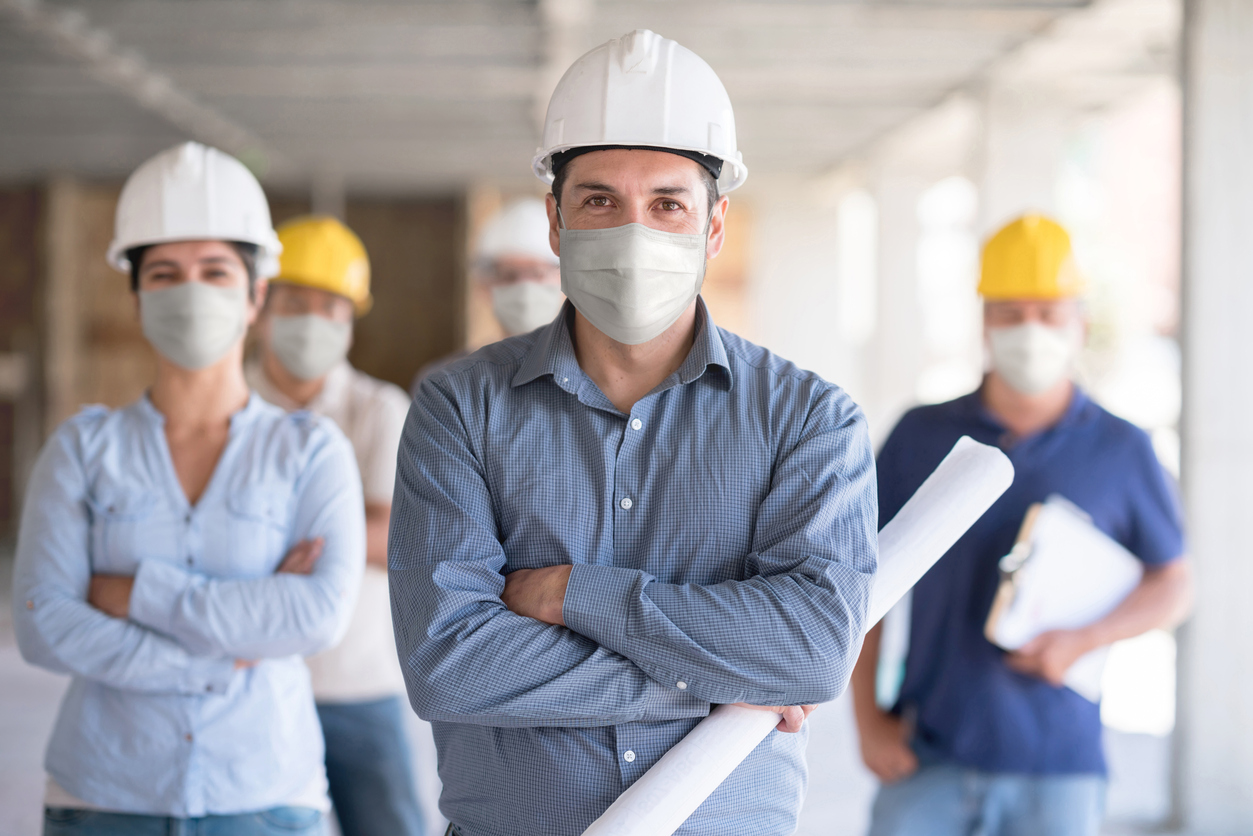 The only thing one can say for certain about the post-pandemic construction landscape is that it will be forever changed. Construction owners and managers who move quickly to adapt will find opportunities for growth. May saw the largest increase in new construction jobs in recorded history, showing that the industry is back in business for those who are able to innovate.
Global Data has backed the increase in growth of the construction sector, but has revised predictions to show only a 0.5% growth (down from 3.1%) which means construction companies will have to improve efficiency and production in order to make a profit. There are ways to embrace change that will help savvy construction professionals to capitalize on the opportunities COVID-19 presents.
Restructuring Workplaces
Revised project plans will be necessary. Construction managers must account for delays in supplies, and reduced numbers of workers on the jobsite. Mitigate delays caused by onsite social distancing by factoring in shift work and weekend shifts.
Ensure your jobsites are set up for social distancing. Some employees will be concerned about returning to work, but you can alleviate those concerns by reducing numbers on site to conform with social distancing guidelines, by providing personal protection equipment (PPE) to prevent infections, and by providing hand sanitizer and hand-washing stations.
Have a policy in place that offers on-site managers guidelines to follow. While guidelines vary from state to state, social distancing, increased hygiene practices and PPE are universally supported. You can also consult guidelines offered by the Associated General Contractors of America as well as OSHA. OSHA guidelines will be enforced and jobsites that don't conform to regulations will be subject to citations.
Hiring experienced managers is essential as the restructuring of workplaces, implementation of guidelines and revision of project plans and scheduling will cause construction delays. Having an experienced manager at the helm will help to alleviate delays and soaring costs.
Local Suppliers
Disruptions in supply chains have been widespread. With 30% of US building products coming from China, many projects have been delayed by a lack of materials. As borders remain closed, disruptions in international supply chains are sure to continue. Buying locally produced materials will not only create more reliable supply chains, it will help to bolster the local economy.
Labor shortages
The construction labor shortage has been an ongoing issue long before the coronavirus added to hiring woes. Over 80% of contractors struggle to fill all their positions which causes 44% of them to increase project prices due to delays. With many employees choosing to rely on unemployment benefits rather than risk infection or because of increased responsibilities in the home, the labor shortage in construction has been exacerbated by the COVID-19 pandemic.
Restructuring jobsites to create safer working spaces for employees, providing PPE and sanitation can go a long way to alleviating concerns and encouraging workers to return to the jobsite.
Technology
Another way to deal with labor shortages is an increased reliance on technology, especially Artificial Intelligence (AI) which automates labor-intensive jobs. Modular construction elements can be manufactured in factory settings which are more efficient and less wasteful. The jobsite will then be the site of assembly, rather than construction, which requires fewer workers and considerably less time.
The modular building sector has already seen impressive growth in the industry, with market share increasing by 50% from 2015 to 2018. This trend is set to continue thanks to the increased speed and reduced labor requirements of modular building. When building components are assembled in factories, it is easier to ensure social distancing, especially when tasks are automated.
Technology can streamline scheduling, utilizing 4D and 5D simulations to schedule shipments, trades, and workers. Advanced scheduling techniques can vastly reduce build times and to allow managers to monitor progress in real time through 360-degree onsite cameras. When issues are spotted quickly, they can be resolved before creating costly delays.
Embracing BIM is essential to companies who wish to be industry leaders in the future. These technologies allow designers and construction managers to provide data that goes well beyond the build. The building team can provide forecasts for risk and costs over the entire life cycle of the building.
The construction industry is traditionally slow to change. While larger, established companies do business as usual, smaller tech-savvy competitors are moving in to provide faster, cheaper alternatives. These construction disruptors are shaking up the industry. BoKlok (a modular home collaboration between IKEA and Skanska) is a great example of a construction disruptor challenging the status quo.
"Challenger status is really more about a mindset—of wanting to either gain market share or protect territory through proactive, business process and product innovation—than it is about revenue," says IFS Chief Marketing Officer Oliver Pilgerstorfer. "For smaller and middle market companies, it is about the size of your ambition rather than the size of your annual turnover. For larger businesses, it is about the realization that it is very easy to inadvertently become a smaller company if you do not regularly reinvent yourself on a fundamental level in response to changes in the world outside your four walls."
Success in a post-pandemic construction world will not be 'business as usual'. Companies that embrace technology and innovation and efficiency through collaboration will come out on top. Advanced technology means engineers and contractors can provide a service that is cheaper, faster and at a higher quality than competitors.